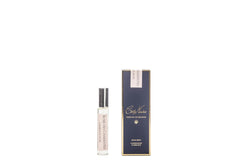 Cote Noire
Côte Noire 15ml Room Spray - Charente Rose - GMS18
Charente Rose: Rose Petal, Rose leaf & white musk.
Caroline Mallêjac created the exquisite Charente Rose fragrance as part of her ongoing collaboration with Côte Noire. Charente Rose / Rose Des Charentes is a natural rose with top notes of rose petal, middle notes of rose leaf and base notes of white musk.

Since Caroline was a child, she has kept a fragrance diary describing new combinations of ingredients and classifying every new scent she experienced. Caroline is a lover of precision and as a Perfectionist, she develops her skills and formulas methodically and patiently. Inspired by fashion and craftsmanship she has developed unique blends for famous French "Maison de Couture" such as Givenchy and Marc Jacobs. She loves to create for the beauty market, where she has signed fragrances for Nuxe Sothys and Payot. Caroline is fine gourmet and tends to include this playful facet in her olfactory compositions.