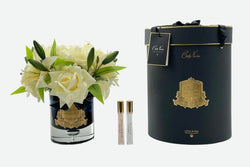 Cote Noire
Luxury Lilies & Roses - Champagne - BLACK GLASS - LRLW05
This beautiful life-like arrangement of lilies and roses has been set in a gel infused with fine fragrance.
Each flower is skilfully hand crafted & uses a special, natural coating to give every petal a natural touch & appearance.
Enclosed with your natural touch lilies and roses is a bottle each of the Lily Flower and Rose Petal,  which you can spray directly onto the flowers to refresh & enhance the scent.
Beautifully packaged in a round ribboned box.
Product Specification:

Bottom Dia (cm): 12.5
Top Dia (cm): 26.0
Height (cm): 29.0
Weight (kg): 2.75