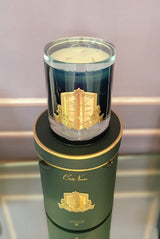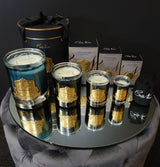 Cote Noire
NEW - Crystal Glass Lid Triple Wick Grand Candle 2.5kg - Charente Rose - LCG054
Beautiful Limited-Edition candles use natural blended Ecoluxe-wax combined with full bodied fragrances evokes an era of sophistication and style. This wax is a healthier, more environmentally friendly alternative to paraffin wax.
This Grand candle comes in a decorative glass adorned with an elegant Côte Noire gift box.
Once you have finished burning the candle through you can keep and re-use the beautiful vessel.
A simple tip to remove the wax. Make sure that the wax is cold. Place the vessel in the freezer for 24 hours so that the wax can contract. Take the vessel out and the wax should start to gently crackle around the edges. Place upside down and gently tap the vessel and the cold wax should fall off. If required use a plastic knife to help removing the cold wax around the edges being mindful not to scratch the paint off the vessel. Enjoy for many years to come :)
What is included:

Cote Noire scented Candle 
Triple cotton wicks
Crystal Glass Base
Luxurious Handmade Round Gift Box with Bow

Charente Rose / Rose Des Charentes. A natural rose with top notes of rose petal, middle notes of rose leaf and base notes of white musk.